Dean Stupar - Vice President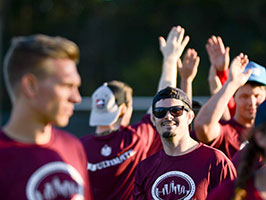 Bio - Tell Us About Yourself!
Hi I'm Dean, and I'm the current pick up director for TBU. I played this past season for Uproar, and played for FSU about 10 years ago. Outside of ultimate I am a manager for Mastec, and I specialize in cell phone towers. I have a lovely girlfriend and reside in Tampa.
Why are you a great candidate for this position?
I am very acclimated with the processes and how they work, I have a great rapport with the current members/directors of the board, and am well versed in managing multiple projects at the same time.
What is one thing you would like to bring to, or change about the position?
I would like to continue pushing TBU, by emphasizing each of 5 major points (pick up, league, women's, club and cannons) and assisting the boards members with each of these tasks. Focusing on the needs of the players in each community and building upon the togetherness we all share, Ultimately.