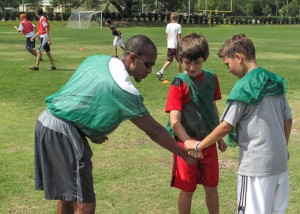 Are you thinking of teaching Ultimate at your school? Whether you embark on your own or need assistance, we can help.
Are you thinking of starting a youth team or supporting an established team of sand lot players? You don't have to be (or have been) an elite player to coach a team. The biggest gift you can offer is your time; showing up at established practices, scrimmages and tournaments.
Running a successful start-up program means taking away as many barriers from playing as you can.
Encourage and facilitate youth scrimmages and "training" in the Fall to give players a place to play who are not involved in other fall activities. Start team practices after the Thanksgiving school break when football and band have ended. Check with Florida Youth Ultimate on facebook. TBU hosts the Janus Tournament with a youth division in January. In March, we host the Tampa Bay Melee youth only tournament.
Get parents involved and treat your team as any other organized team sport. Create a welcome package, team practice schedule, anticipated team tournament schedule and charge team dues that includes your team entry fees, jerseys and discs. Parents support legitimate sports and expect that there are costs associated.
Create a team Text Tree, Twitter account or Facebook page. Post practices and prompt players to attend. Share pictures, articles, videos and events. Take great pictures of them playing and post them – kids share those with each other. It fuels their excitement and attracts the attention of other potential player-friends.
Always show up for practice. Even if only one player shows up, this is an opportunity to work on the minutia of form and throwing skills you would have not otherwise have had the opportunity or inclination to do. This also models your commitment to the team and in-turn your team will reciprocate.
Having the support of your school is huge. Forming a school ultimate club will insure a viable base of players year to year. This should also allow you to promote the team with flyers, videos to be played at morning announcements, etc.
Don't worry if you need to look outside your high school for other players to form a club team. It is what most Florida teams currently do and there are currently no Florida youth tournaments that would prohibit you from playing as a club.
Tampa Bay Ultimate hosts many adult tournaments, leagues and pickup games. Constantly encourage your players to signup and play at all these events. It is the quickest way to get better.
The pool of talent out there is endless. Enlist in the help of as many established players as possible. Invite them to coach with you or, at minimum, make guest appearances. Having great players play with your team is huge. It's inspiring for them to see higher levels of play.
USAU is very supportive of youth Ultimate and has many resources.  www.usaultimate.org
Good school instructors and youth coaches can find many resources on youtube.com and with general google searches. Here are a few of our favorite links to get you started and keep you going.
Elementary Disc Skills Curriculum
Ultimate Video Modules for Physical Education Teachers
Australian Youth Development Manual