Bryana Yocum - Vice President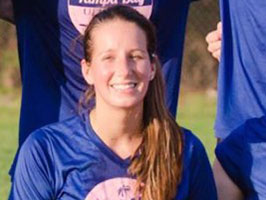 Bio - Tell Us About Yourself!
Hello, my name is Bryana! I am 25 years old and started playing ultimate with the USF Scallywenches when I first moved down here from NJ in 2015. I also started my first league that fall and have loved Ultimate ever since! Some of my experience in ultimate includes pickup, league/league captain, hatters, fun tournaments, captain of the USF wenches and playing for a club mixed team(Mutiny). Outside of Ultimate I love being outdoors and being active! Some of my hobbies include kayaking, spinning, and yoga. I also just adopted a kitty that I love 🙂
Why are you a great candidate for this position?
I'm a great candidate for this position because I am involved in the TBU community already and would like the chance to be even more involved. When I first moved down here I didn't have a place where I fit in and wasn't sure if I was going to stay after college, but the ultimate community changed that. I have made so many friends through the community and wouldn't have it any other way.
What is one thing you would like to bring to, or change about the position?
I would bring to the table my commitment. I am a very committed person and very dedicated. I love being involved in the ultimate community and would like the chance to help out more.